All You Need to Know About Android Q. In this article you will find all the details and features about android's new update which is Android Q.
What is Android Q?
Android Q, also known as Android 10, is the forthcoming version of Google's mobile operating system, which is celebrating its 10th anniversary this year.
It's actually the 15th iteration of the OS and follows on from Android 9, also known as Pie, which was released last year. As expected, it comes with a raft of new features, some of which are security related while others are simply set to prove rather useful.
[quads id=2]
So what does the Q stand for?
At the moment, we don't know, but it's sure to be something food-flavored.
The Android OS was dubbed Cupcake when it arrived in April 2009 and subsequent versions have been named Donut, Eclair, Froyo, Gingerbread, Honeycomb, Ice Cream Sandwich, Jelly Bean, KitKat, Lollipop, Marshmallow, Nougat, Oreo and Pie.
[quads id=3]
So perhaps this time out it will be Quiche or Quinoa, although these don't really fit the 'sweet treat' theme, or perhaps there will be another commercial deal. Android 10 Quorn, anyone?
Will it look and feel different?
Judging from the public betas that have been rolling out recently, Q is not going to represent a giant leap forward – it's certainly not a dramatic update along the lines of Ice Cream Sandwich.
But there will be a little bit of a learning curve, not least because of its greater use of gestures.
[quads id=4]
What gestures does it introduce?
Q is ditching navigation buttons and is taking a tip from Apple by introducing a Home Indicator bar, placed in its own section at the bottom of the screen.
Swiping up on the Home Indicator sends you to the home screen, as it does in iOS, but the difference is that swiping up and holding lets you access your recently used apps, and a quick swipe left or right cycles between your apps.
[quads id=5]
If you simply swipe up on the display rather than the indicator, you'll be able to view the app drawer. Android Q also does away with a Back button. Instead, you swipe in from the left or right edge of the screen.
Dark days for buttons then?
And for your eyes. Android 10 also follows the current tech trend for dark modes by introducing what it calls a Dark Theme to reduce glare and eye fatigue.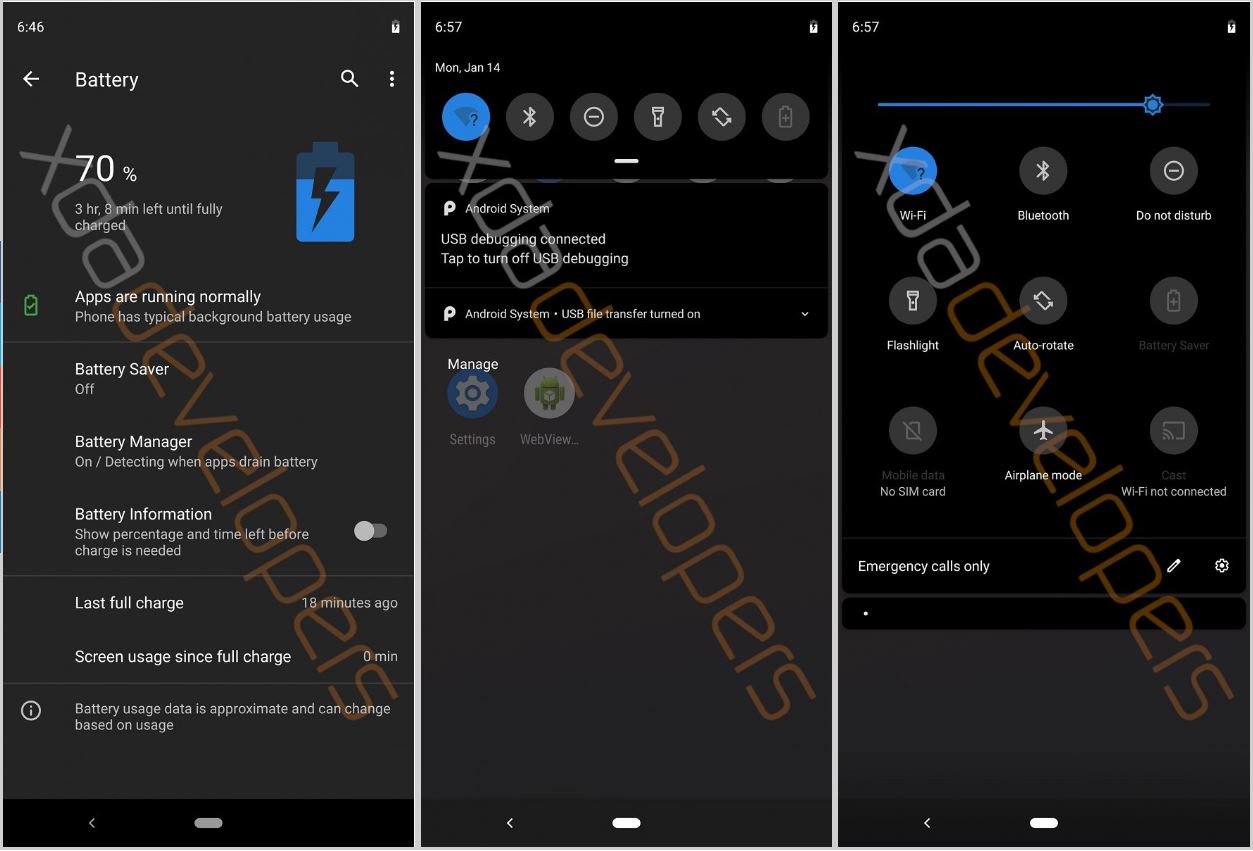 This will work across the operating system and you will have a choice of enabling it throughout the day or having it switch on automatically at night.
Doing so is as easy as calling up the Quick Settings menu and tapping a Dark Theme button and, because the theme uses a true black, it should help to conserve battery life, particularly on phones with OLED displays.
[quads id=6]
Will it save me time, too?
In some respects, yes. Android Q will extend Google's Smart Reply function outside its own tools such as Messages and Gmail, so it can be used by a broader range of apps.
As before, it will monitor the context of a message and offer suggested replies but it also goes a step further: let's say someone sends you an address, the OS will predict that you may want to view it and so offer a supplementary function to open Google Maps.
What's more, the machine learning will be carried out on your device rather than in the cloud, and it will prioritise the notifications that matter the most.
What else is new?
Well, there's a fantastic new feature called Live Caption that lets you watch any video or listen to audio without having to crank up the volume – assuming you have a compatible higherend phone, anyway.
[quads id=9]
Although it's aimed at people who are deaf or hard of hearing, it will be useful to everyone, particularly in public areas where playing sound aloud may disturb others.
The function is activated in the accessibility settings and uses machine learning to generate captions with a single tap.
And because the captions are generated on your device rather than in the cloud, you don't even need to be connected to Wi-Fi or have access to data in order to use it. The function will even caption your own recordings.
How does Android Q improve security?
Google is aware that the security patches it issues on a regular basis are not being installed by every user, which means that many phones are not sufficiently protected.
A major issue is that mobile networks and manufacturers are currently involved in distributing patches, so Google is now taking the matter into its own hands under the name Project Mainline.
[quads id=7]
This will make smaller security updates available direct from the Play store and, since they are not going to be distributed as part of full system updates, it will also reduce the number of times a phone has to be rebooted to install them.
What about app security?
App developers will have to ask for permission if they want their apps to access your phone's IMEI and serial number, and their apps will only be able to access the system's clipboard if they're running and on-screen.
Voice commands will also be processed on your device rather than in the cloud so that such information is less likely to be leaked. Additionally, Android Q ensures that you're notified when an app is accessing your location, and the OS is adding a new Privacy section in the settings so you can determine how your data is used.
Being able to decipher the level of access available to apps, coupled with the ability to toggle what you do and don't want them to know, will be very useful.
When can I get Android Q?
the final, stable release, then expect it to be rolled out from August.
Also Read: